TWINSTAR 600E SERIES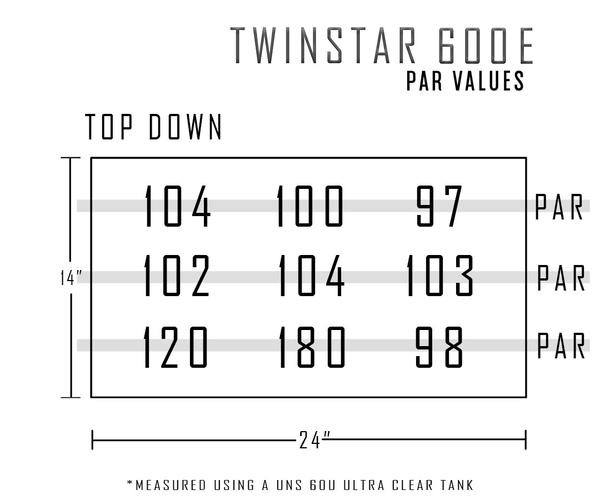 image 1 of 1
Description
TWINSTAR E-Series is a full-spectrum LED aquarium light that promotes rich and vivid colors in plants and fish. With its full light spectrum and a wide range of wavelengths of 400nm to 700nm, the E-Series provides the optimum light required for plant growth. The Twinstar E-Series LED lights are specially designed for rimless glass aquariums from popular brands like Aqua Design Amano (ADA) and Ultum Nature Systems (UNS). The required glass thickness is 5-6mm for Model 600E and below. (From amazon description)
Notes
The PAR data is from buceplant's website. I will update it when I get a chance to test it personally.
Standard Dimensions
23.50" x 4.60" x 4.37" (L x W x H)
Metric Dimensions
59.7cm x 11.7cm x 11.1cm (L x W x H)
Max Mounting Width
24" / 61.0cm
Spectrum
7050 Kelvin
Power
35 watts
Testing Method
PAR tested using Seneye PAR meter unless otherwise noted in the notes section. Testing process is documented here
Date Added
January 13th 2021
Aquarium Lights
Find PAR-tested values for popular aquarium light fixtures such BeamsWork, Chihiros, NICREW, Finnex, etc. Aquascape and grow aquatic plants with confidence.