TWINSTAR 900E SERIES
PAR Data
Depth from Center of Fixture
3"
373
146
21
11
6"
280
181
65
26
9"
204
160
76
40
12"
159
138
68
57
15"
134
116
72
56
18"
117
107
66
58
0"
3"
6"
9"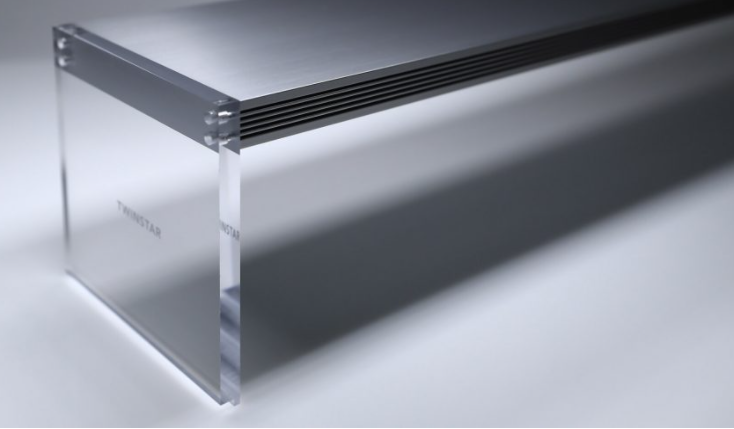 image 1 of 1
Where To Buy
Description
The Twinstar E series includes the following 300E (12 inch), 360E (14 inch), 450E (18 inch), 600E (24 inch), and 900E (36 inch). The Twinstar 900E has 3750 Lumens and is suitable for UNS 90P, 90U rimless aquariums or equivalent. The light contains full spectrum LEDs with optimum range of wavelengths of 400nm to 700nm for growing plants.
Notes
Testing video found here (please note, PAR measurements at depth of 3" were out of the water). The Twinstar 900E that was tested is version 3. This metal fixture is very sleek with thick acrylic cell cast mounting arms. This is not adjustable so you cannot lower or raise the light. The light is only on and off 100%. You must buy the dimmer for dimming functionality. This light is extremely powerful with PAR of 117 at 18" deep! This means for the UNS 90P (~18 inch deep), you'll have more than enough light (maybe too much when subtracting substrate height). In addition, this fixture is also very effective for the UNS 90U which is ~22 inch deep if you have 2-3 inches of substrate. Since PAR of 50+ is considered high light, you may want to get a dimmer for this fixture.
Standard Dimensions
35.40" x 4.92" x 3.98" (L x W x H)
Metric Dimensions
89.9cm x 12.5cm x 10.1cm (L x W x H)
Max Mounting Width
36" / 91.4cm
Spectrum
6500 Kelvin
Power
60 watts
Testing Method
PAR tested using Seneye PAR meter unless otherwise noted in the notes section. Testing process is documented here
Date Added
February 6th 2021
Aquarium Lights
Find PAR-tested values for popular aquarium light fixtures such BeamsWork, Chihiros, NICREW, Finnex, etc. Aquascape and grow aquatic plants with confidence.